Sports Wall Quotes Decals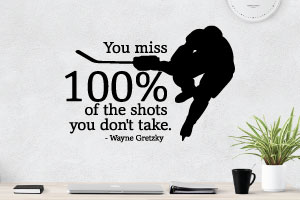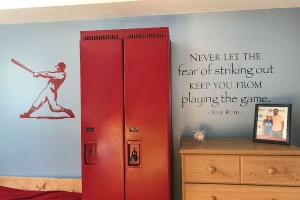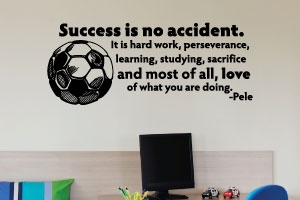 Sports Wall Quotes Decals Inspire Great Character
Hard work. Determination. Dedication. Endurance. Sports help us to whittle out our weakness and refine our strengths. This collection of sports decals for walls is full of inspiration, no matter your sport of preferece. From Babe Ruth to Wayne Gretzky and Vince Lombardi, some of the most inspirational sports quotes for the wall come from leaders and athletes who excelled personally and professionally. Be motivated by their words with a great sport quote decal that helps YOU keep your eye on the ball.
Easy to Apply Sport Wall Art For Garages, Dens, Man Caves, and Kids Rooms
It doesn't matter if you're a casual enthusiast, training for a big event, or a die-hard fan – we've got the right kind of sport decals for you. In fact, sports wall decals are a great way to encourage young athletes; inspire them with sports vinyl wall art in their room and let their passion be reflected in the sports decor in their room. From sport silhouettes to sport quote decals, personalize your space with sport wall art you love. Each decal comes with a free installation tool and is pre-spaced to make installation simple and straight-forward. Most decals can be applied within 5-10 minutes and make a great man cave decor DIY project.
Fitness Quotes for the Wall are Great in Home and Professional Gyms
There's no better way to feel inspired than being surrounded by strong motivational quotes on the wall in your home gym. And if run a professional gym, let one or a whole gallery of our sport and fitness wall quote decals inspire your members to push harder, train smarter, and be better than they were yesterday. There's so much variety in the design and style for our fitness wall decals that you're sure to find just the right thing to keep your heart rate up and your feet on the right track.
Pages
Pages