Family Wall Quotes Decals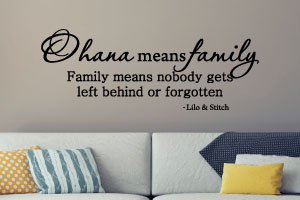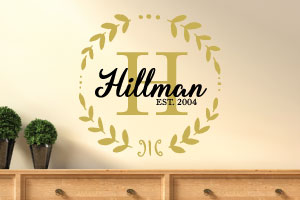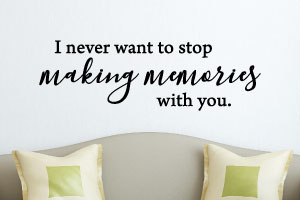 Family Wall Quotes Decals Make Your House A Home
Family is everything. You know it; you live it. And you want your home to reflect that commitment and exude love, encouragement, and belonging to each family member. With a beautiful family Wall Quotes™ decal from our collection, you can adorn your walls with inspiring quotes and motivational phrases that help you remember to recognize and cherish what matters most.
Family Decals for Photo Walls - Honor Your Heritage and Inspire Your Children
Family wall quote decals are the perfect way to honor and highlight the stories of your past. Create a family photo wall or gallery wall of heritage photos and memorabilia, highlighted with the perfect family quote for the wall so your children can see every day where they come from and find themselves in the features and characters of their ancestors. Those honorable men and women have all overcome hard things and their stories will inspire your children to do the same.
Easy to Install Family Wall Quote Decals Are A Beautiful Way to Display Important Memories
Bring a smile and spark a memory with our fun vinyl wall decals. Express your love and your biggest hopes and dreams for your loved ones with one of our traditional family vinyl Wall Quotes™ decals. Our vinyl wall art and vinyl wall decals are also fabulous as photo wall quote decals and make the perfect complement for your favorite family snapshots. Easy to install, easy on the wallet, and easy to remove when you're ready for a change, you can't go wrong with these premium quality family decals.
Removable Family Decals are Great for any Room in the House
Family wall quote decals are perfect in any room of your home: in the entryway to welcome your crew home, in the great room where you play together, in the dining room where you share meals, in the kitchen where you gather most often, and even in your hall wall or stairwell to make even the most utilitarian space beautiful and inspiring.
Have a Favorite Family Phrase? Display it Prominently in your Home with a Custom Wall Quotes Decal
All families have them - a favorite inside joke, a special inspirational phrase, a family motto. In my family, that phrase was "many hands make light work" and yours is unique to your family. Display that favorite family phrase on the wall with a custom wall quote decal. Simply contact us with the phrase and any special requests (size, style, etc) and we'd be delighted to help you create the perfect wall decal for your special family phrase.
Pages
Pages