Inspirational Wall Quotes Decals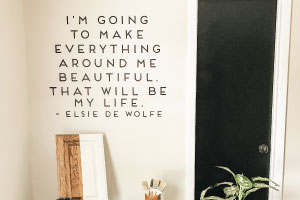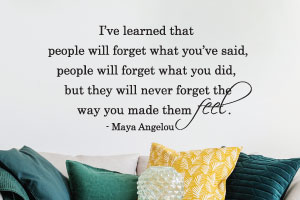 Inspirational Wall Quotes Decals Inspire and Motivate Our Best Efforts
Great words have great power to inspire and powerful words combined with beautiful designs take that power a step further. You have big goals and huge dreams and you can make it happen. Let the words on your wall inspire, motivate, and lift you up as you work hard to get where you want to be.
Inspiring Wall Quotes Decals for Walls From Favorite Authors and Admirable Leaders
Here in our inspirational Wall Quotes™ decals collection, you'll find traditional favorites turned into beautiful inspirational wall decals from authors you adore and leaders you admire. You'll find fresh inspirational vinyl Wall Quotes™ decals to motivate you, and fun inspirational vinyl wall art to help you remember to savor the little things in life that mean so very much.
Inspirational Wall Decals are Great Gifts for any Occasion
No matter the occasion, you really can't go wrong with a inspirational quote for the wall. Indeed, an inspirational wall quote is the perfect housewarming gift for your friend or new neighbors. Inspire and delight a child, niece, nephew or grandchild with an inspirational quote for the walls in a bright color that will remind them to set their sights high. Send your graduate off in style with a great inspirational wall art quote for their dorm room. And what better way to honor and thank a great hostess than a beautiful wall quote decal as a hostess gift?
Easy to Install Inspirational Decals: Perfect for Home, Office, School
These inspirational quotes for walls are perfect for any room in your home, but also have an amazing impact on learning and motivation at school and in the classroom, and help create a positive momentum at work as well. Whether inspiring your family at home, encouraging your students at school, or motivating best efforts of employees and colleagues in the office, an inspirational decal for the wall is just the thing!
Removable Inspirational Wall Decals Make Excellent Dorm Room Decor
Every dorm room starts as a blank canvas. Our inspirational wall quote decals are the perfect way to personalize a dorm room and bring much needed warmth and charm. Decorate a dorm room with an inspirational quote for the wall that inspires you to do your best, set big goals, and do your best every day. Add much-needed color and style to any dorm room with a custom wall quote decal to highlight a favorite phrase or motivational quote. Just contact us and we'd be delighted to help you design the perfect wall quote decal for your dorm room today! So, install an inspirational vinyl wall art quote to your dorm room wall. Be inspired. And do great things.
Pages
Pages