Museum & Gallery Signage, Lettering, & Decals
Wayfinding Signage
From the location of cloakrooms and restrooms, to directions for special wings and permanent exhibits, your patrons need easy-to-navigate wayfinding signage to make their way comfortably around your facility.
Directional signs must be eye-catching, easy-to-read, and easy to follow. They should relay the message as clearly, quickly, and effectively as possible. Available in custom sizes, a variety of styles, and many colors, our vinyl lettering, museum decals and murals are perfectly adapted to contribute to and enhance the wayfinding systems of your institution.

Use our online Design Center tool
Send .ai, .eps, .pdf vector files
Whatever you need, we can help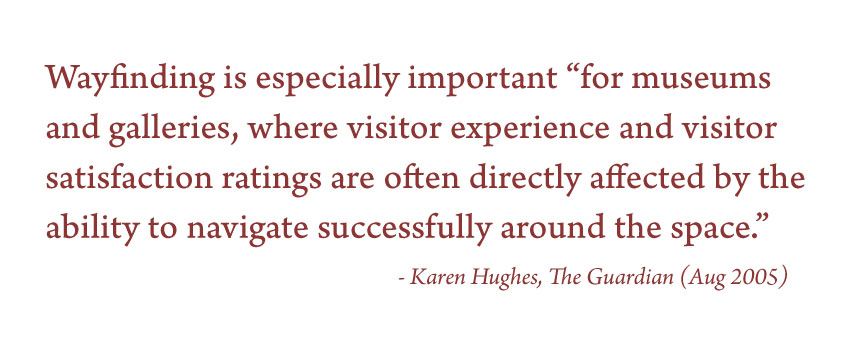 Our high-quality vinyl lettering and decals can be an integral and important part of your wayfinding system – visually appealing, easy-to-read, and simple to install – so that your patrons have a great experience, find their way, and enjoy their time in your facility.
Contact us today to discuss your project and how our high quality museum decals and vinyl lettering can make your facility a little easier to navigate.
Work on the details and design your museum signage, titles, labels, and captions yourself with our online Design Center. Choose from dozens of font styles and adjust the sizing, spacing, and layout exactly the way you need.

Our design team is ready to discuss your project and help with anything you need. Complete this form and we'll take it from there!