Office Wall Quotes Decals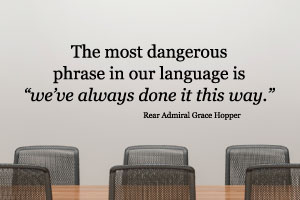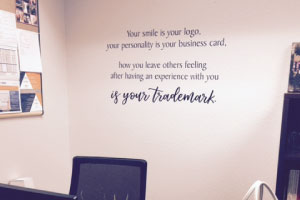 Display Your Mission Statement, Enhance Your Branding, Elevate Your Signage
Our predesigned inspirational office wall decal collection includes designs for a wide variety of professions and settings, from the doctors' office to tech hubs to your home office. We can also make anyting custom, from mission statements to storefront signage, in any size, from small storefront address numbers and business hours to large format wall murals.
Office Wall Quotes™ Decals Motivate and Inspire
You work hard. And you make things happen. Keep your drive going strong with one of our office Wall Quotes™ decals for walls. Adorn your office walls with the powerful words of our vinyl wall decals to remind yourself of your goals. Indeed, any of these office vinyl decals will be just the thing to help you block out distractions and focus on the tasks at hand.
Office Decals for Walls: Great for Home or Corporate Environment
If you're doing your thing in a home office or making magic in a corporate office, these office vinyl Wall Quotes™ decals, many of them inspiring words from successful leaders and innovators, will keep you motivated.
Removable Office Wall Quotes™ Decals Communicate Company Values
Upgrade your walls from plain to exceptional with our premium quality removable vinyl decals. With a matte finish and a wide range of colors, our office decals for the wall (and any other smooth surface - think office doors, windows, and even the fridge in the breakroom!) will make your entire office environment pop with professionalism and communicate clearly to your employees and clients alike what you're about and why you excel.
Pages
Pages