Love Wall Quotes Decals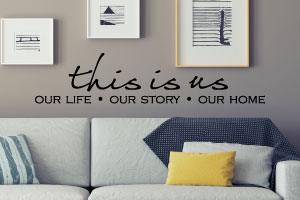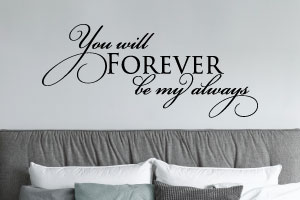 Personalize Your Home with Love Wall Quotes Decals
Love is a many splendored thing, said Shakespeare. He meant, at least in part, that it can be felt and expressed in many many beautiful ways – we think it comes together here in our love vinyl Wall Quotes™ decals collection. Add warmth, charm, and style to any room in your home expressed with the lovely sentiment of any of our love quotes for the wall.
Say I Love You With A Love Quote on the Wall
You can never say I Love You enough. With a lovely wall decals design, you can remind your family of the bond that holds you together. Indeed, our collection of love decals for the wall feature many styles and designs so that you can choose the right one for your space. One thing's for sure, since love really is all you need, you can't go wrong in choosing one of our great love vinyl wall decals to say it out loud on your walls.
Our Love Wall Art Decals are Easy to Apply
Each of our love wall decals are made to order with premium materials right here in the USA. Each love decal for the wall comes with full instructions and a free application tool and is pre-spaced to make the application process simple and straight-forward. Most of our love wall decal quotes can be applied within 5-10 minutes with minimal tools and are the perfect DIY project for any room in your home.
Pages
Pages