Bathroom Wall Quotes Decals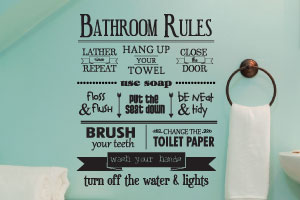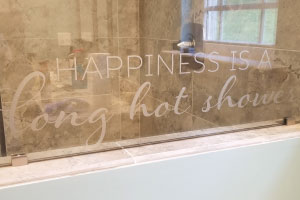 Bathroom Wall Quote Decals: Big Impact in a Small Space
The bathroom is one of the most visited rooms in the house, but is often tucked away and forgotten. No more! Transform and decorate your space using one of our bathroom or powder room wall decals and make that small space fun and enjoyable for you and your guests. Decals for the wall are the perfect accessory in a bathroom - they take up no floor space at all and yet make a big impact. From motivational and inspirational quotes to hilarious and silly phrases, a bathroom quote for the wall takes that little hardworking room to the next level!
Easy to Install Bathroom Wall Quote Decals Are Waterproof
Made right here in the USA, our high quality wall decals and lettering are waterproof. Go ahead and install them next to the sink, on the mirror, over the toilet, on the shower door, or even right on the bathtub itself! Water won't damage the bathroom decal - the colors won't run and the decal won't peel, lift, or fade. Also - crank up the heat on that shower and don't worry about the steam - the bathroom wall decal won't peel, curl, or droop. And you can clean right over the top of it as well, enjoying your bathroom quote decal for years to come!
Transform Your Bathroom with Humorous Bathroom Decals for the Wall
We all have rough mornings. Make yours a little easier with a humorous saying or phrase applied right to the wall with our vinyl lettering. A silly bath or shower wall quote can go a long way to brighten your day and the right bathroom or powder room decal can coax a smile, inspire a laugh to lighten the mood, and motivate you to do your best right from the get-go.
Removable Bathroom Decals are the Perfect DIY Bathroom Project
Wall decals make great accents to any décor – and our bathroom vinyl wall art will make a big impact in this small space. Every decal is pre-spaced and aligned, making installation simple and straightforward. Every order comes with a free installation tool and instructions and we have lots of installation videos online to help make the process as smooth as possible. Whether sweet and simple or fancy and intricate, a bathroom wall decal can be applied easily and without fuss - some in as little as five minutes - making installing a bath wall quote the perfect weekend DIY project or mini bathroom makeover.
Pages
Pages